I like kale, I wouldn't say it is my favorite vegetable, but I like it. Probably my favorite way to eat it is this salad, but it is always a nice, healthy addition to soups or stews. I did, however, avoid the kale chip bandwagon for a long time. Those expensive, little packages of kale chips at the grocery store never peaked my interest. But, since I am the mother of a crunchy, carb-loving toddler, who rarely lets a vegetable pass through her lips, I thought I'd try to them. This hysterical Tonight Show sketch with Jimmy Fallon, Will Ferrell and our First Kale-Lover in Chief, Michelle Obama may have also influenced me.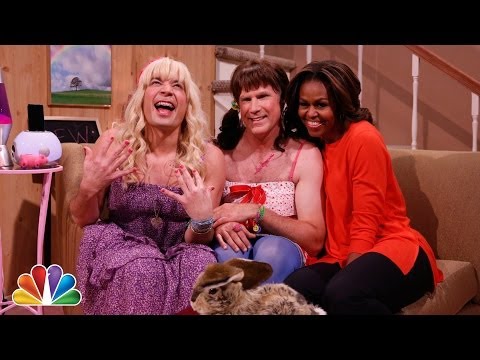 You probably have all of the ingredients already and will just need to grab a bunch of kale – the curly kind works best. I used too much salt the first time I made them, so go easy, you can always add more when they come out of the oven.  Aside from being a bit too salty, the chips were a hit in our household, and I can say that I finally got Eliza to eat something green!
1 bunch curly kale
olive oil
salt
Pre-heat oven to 200 degrees. Wash and dry kale, and remove the ribs from each leaf. Cut remaining kale leaves into medium-sized pieces – the size of a traditional potato chip. Toss with olive oil and salt and spread on a baking sheet. Bake for about 20 minutes, tossing once halfway through. Enjoy!